The Original Darts News & Info Web Site ...est. 1994!
---
$13,000+ Houston Bluebonnet Classic
Darts Tournament
January 20-22, 1995 - Houston, Texas
(Steel-Point Darts)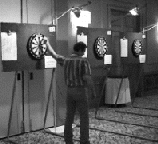 Photos by Rick Osgood.
From left to right: 1. Late night practice in the tournament hall. 2. HDA Pres Kris Byers hands out scoresheets. 3. Tournament Director Tony Morgan & Tournament Coordinator Randy Schlesinger set up another round on the bracket board.
---
Tournament Location:
Adam's Mark Hotel is an upscale hotel on the SW side of Houston, and will be the site for the HDA's next 2 events: the Texas Team Championships & the $13,000+ Houston Open Darts Tournament. The address is 2900 Briarpark at Westheimer, Houston, TX 77042. Reservations: (713) 978-7400. If you are staying there for a darts tournament, the darters' rate is $62, but you must ask for it!
---
Schedule of Events

---
WINNERS
---
Blind Draw Doubles 501 (268 Entries)
1st: Bill Stein/Chuck Solinski; 2nd: Paul Lim/Brandon Coghlan; Top 4: Mark Trauntner/Wade McDonald, Jerry Chezem/Rick Groff; Top 8: Rick Stephenson/Nate Zelinskiy Bevin Sherrard/Brandin Shaw, Rick Soukup/Thom McDonald, Frank Navarro/David Goldstein; Top 16: Davis Snyder/Jeff Long, Brian Perry/Paul Helm, Terry Preston/Harry Carrigan, William Fountain/Jack Beard, Jim Oldenkamp/Janet Watkins, Kenneth Touchet/Raul Garcia, Jake DiBartolo/Michael Beck, Mike McGinnis/Todd Ivey

Opens Doubles Cricket (105 Teams) 1st: Gerald Verrier/ Paul Lim; 2nd: Joe Hebert/Brian Chotagnier; Top 4: Mike Davidson/Davis Snyder, Frank Wolfe/Chuck Solinski; Top 8: Donnie Ramcharran/Don Lamb, Russ Lopez/Eddie Castillo, Bo Cain/William Fountain, Gunner/Rick Groff; Top 16: RickSpillar/Jeff Long, Donny Joe/Scott Munroe, Sam Hall/JoeMcKinney, Damen Hunkins/Joe Herman, Joel Gonzales/Paul Smith, Steven Drinorsky/DonnaSchuburt, S. Gomez/Bill Modisette, Tom Biesenbach/Gary Low

Womens Double Cricket (30 Teams) 1st: Barbara Barnes/Hope Carroll; 2nd: Lori Verrier/Julie Nicoll; Top 4: Jenny Noble/Lori Cannon, Phyllis Silver/ Jill Hammond; Top 8: Lynn Keogh/Angelia Knight, Lorraine Keyser/ Evelyn Thompson, Brenda Gandy/Kathi Beyer, Roxanne Ziegler/Cathy Machado

Mens Singles 501 (176 Entries)
1st: Paul Lim; 2nd: Thom McDonald; Top 4: Joe McKinney, Tom Biesenbach; Top 8: Roger Barreva, Lee LeMoins, BrianShetler, Neil Wooding; Top 16: Rusty Brooks, Donnie Ramcharon, William Fountain, Charlie Berthelot, Rick Stephenson, Steve Brown, Michael Silvestain, Pat Cook; Top 32: Doug Bowens, Andy Trevino, Richard Miller, James Harris, Charlie Glaze, Glen Merrifield, Barry Forsyth, Jeff Long, Scott Palermo, James Benefield, Jake DiBartolo, Davis Snyder, Gary Low, Jason Paulder, Mark Oswalt, Joe Hebert
Womens Singles 501 (60 Entries)

1st: Lori Verrier; 2nd: Donna Detillon; Top 4: Julie Nicoll, Cathy Allison; Top 8: Coleen Davidson, Val DeWeese, Donna Schubert, Ellen Kilgore; Top 16: Cathy Machado, Lorraine Keyser, Judy Blizard, Liz Dieckman, Trish Newkirk, Jenny Noble, Melyn Hirt, Carol Stelter
Mixed Doubles Cricket (89 teams) 1st: Lori Verrier/ Gerald Verrier; 2nd: Steve Brown/Brenda Gandy; Top 4: Rick Stephenson/Chris St. Pierre, Tom Bisenbach/Phyllis Silver; Top 8: Joe Hebert/Doreen Barrett, Paul Lim/Hope Carroll, Donna Detillion/Donny Joe, Chuck Solinski/Kym Morales; Top 16: Scott Munroe/Kathi Beyer, Gary Low/Jill Hammond, Frank Wolfe/Julie Nicolls, Chuck Reynolds/Stacey Miller, Bob Bettis/Kathy Dale, Chip Adams/Liz Kieckman, Rick Crocker/Margaret Ivy, Sharon Berryman/Rick Groff
Blind Draw Doubles Cricket (206 entries) 1st: Roger Berrera/Rodney Breax; 2nd: Bob Bettis/Bo Cain; Top 4: Donnie Ramcharon/Stephen Brown, Bob Sarver/Roger Carrotte; Top 8: Jim Edmund/Hoot Hooten, John Morris/Dennis Aitken, Rob Wheeler/Neil Wooding, Glen Merrifield/Emery Preson; Top 16: Darryl Richardson/Paul Lim, Donny Joe/Jesse Hall, Davis Snyder/John Davis, Rick Marshall/William Fountain, Joseph Hebert/Ron Zwecker, Mike Davidson/Greg Smith, Chuck Solinski/Donnie Shockley, Marc Lumeir/Richard Reuter
Open Doubles 501 (81 Teams) 1st: Steve Brown/Rick Crocker; 2nd: KJ Maton/David Ramos; Top 4: Tom Biesenbach/Gay Low, Jerry Chezem/David Barksdale; Top 8: Jeff Long/Rick Spilker, Mike Davidson/Davis Snyder, Charlie Glaze/Lowell Benoit, Jake DiBartolo/Charlie Berthelot; Top 16: Dennis Gonzalez/Al Gonzalez, Don Lamb/Donnie Ramcharin, Roger Callot/Danner Verrett, Joe Hebert/Brian Chategnier, Todd Reel/T. Moore, Donny Joe/Scott Munroe, Chris Helms/Bob Bettis, Thom McDonald/Jody Roberts
Womens Doubles 501 (35 Teams)
1st Place:
2nd Place:

1st: Lori Verrier/Julie Nicoll; 2nd: Chris St. Pierre/Pat Jacobs; Top 4: Betty Weed/Carol Stelter, Loraine Keyser/Evelyn Thompson; Top 8: Linda Mathis/Lori Modisette, Carmel Davis/Kathy Dale, Hope Carroll/Barbara Barnes, Donna Schubert/Liz Dieckman
Mixed Doubles 501 (76 Teams) 1st: Scott Wollaston/Lorraine Keyser; 2nd: Thom McDonald/Janet Watkins; Top 4: Bryan Shetler/Roxanne Ziegler, Paul Lim/Hope Carroll; Top 8: Jake DiBartolo/Cathy Machado, Rick Goff/Lynn Valentino, Bo Cain/Kathy Swift, Steve Brown/Brenda Gandy; Top 16: Joe Hebert/Doreen Barrett, Chuck Czarnecki/Soozi Pearson, William Fountain/Terri Shelby, Rick Stephenson/Chris St. Pierre, Gary Low/Jill Hammond, Stuart Jones/Barbara Barnes, Don Lamb/Melyn Hirt, Mike Davidson/Coleen Davidson
---
---
---
Visitors since May 18, 1996
---
---
---

Copyright © 1994-2017 CyberDarts.com. All Rights Reserved.